Bathroom Remodeling in Riverwoods Illinois
Bathroom Remodeling
Together We Can Transform Your Riverwoods Illinois Home
Don't let our name fool you, our expertise goes further than kitchens. From your powder room to your master suite, our highly skilled design team can revamp your outdated bathroom into a luxurious retreat. Give your home the transformation it deserves with the quality remodeling services offered by Kitchen Village.
Think of your bathroom remodel as an opportunity to transform your outdated space into a sleek, organized, full-functioning room of your dreams. Many of our clients are so pleased with Kitchen Village that they return to have a second bathroom or kitchen remodeled. Our design staff will work with you to create the space of your dreams. 
We are fully licensed, bonded, and insured to work in Riverwoods and surrounding areas. Come in to our showroom to see our displays, talk to our staff, and get to know us at Kitchen Village. We are sure that you will fall in love with what you see.
Recent Bathroom Remodeling Projects
Top Benefits to Remodeling Your Riverwoods Illinois Home's Bathroom
Increase Home Value
Remodeling your bathroom is a great way to help the return on investment on your Riverwoods home. A beautiful new bathroom can dramatically increase the value of your home. In addition to the kitchen, the bathroom is another important decision factor when searching for a new home. A newly remodeled bathroom will help boslter the return on investment of your Riverwoods home. If you plan on selling your home in the future, contact Kitchen Village and we can help with all of your remodeling needs.
Visual Appeal
Bathroom remodeling will complement the look of your home and make it more visually appealing. With the help from our experienced designers and the use of our quality products, we can give your bathroom the style that you want. Our designers can create a unique, one-of-a-kind look and make your home in Riverwoods stand out higher than the rest.
Energy Efficient Appliances
Remodeling your bathroom gives you the perfect opportunity to add new, energy-efficient appliances to your Riverwoods home. Newer, energy-efficient appliances will save you money in the future and increase the value of your home. Our talented design team at Kitchen Village can help you choose energy-efficient appliances that will match the overall style of your home.
Storage Space
Remodeling your bathroom gives you the opportunity to increase the functionality of your space. You can boost the storage space with new cabinetry for a beautiful, updated look. It is essential for smaller bathrooms to get the most out of their space for everyday functionality by adding more storage space. You can work with our award-winning design team to increase the space saving options of your bathroom.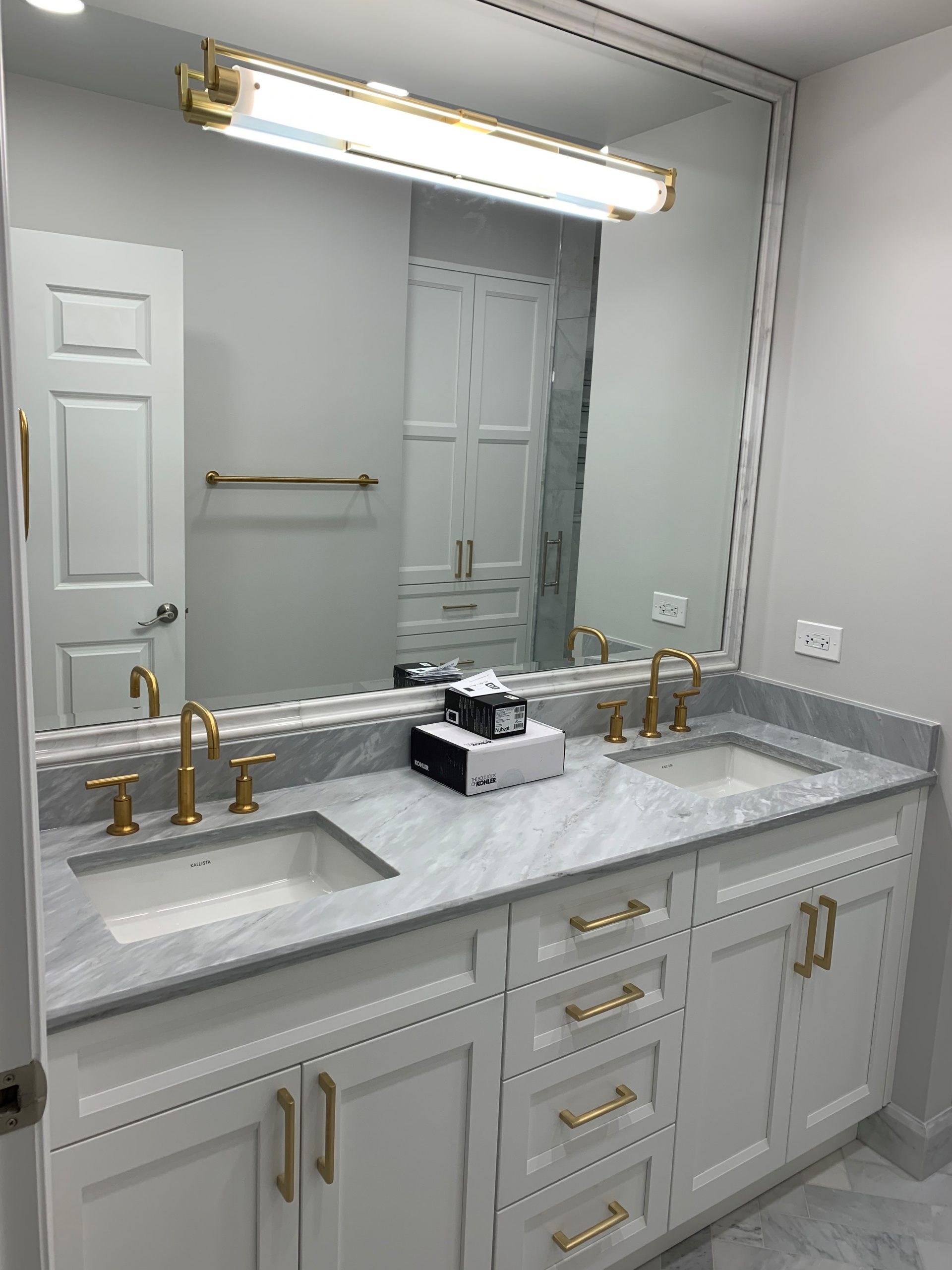 Ratings & Reviews
Grateful for our clients and the trust they've placed in us: